Safe travelling
The website safetravel.is provides access to important travel information with the aim of increasing the safety of tourists in Iceland.
Travellers are highly encouraged to submit a travel plan on safetravel.is to make it easier to locate them in case of an emergency.
In case of an emergency please call 112. If you dial 911 you will be automatically redirected to 112.

Safety issues
Driving in Iceland
Those who travel Iceland by car must familiarize themselves with traffic rules and check the road conditions regularly.
To check the road conditions and closures, visit umferdin.is. Alternatively, you can also call the Icelandic Road Administration (phone: 1777) during weekdays.
Speed limits
Within populated areas: 50 km/h (30 mph)
In rural areas – gravel roads: 80 km/h (50 mph)
In rural areas – asphalt roads: 90 km/h (55 mph)
Drivers must pay attention when encountering:
Sheep on the road: If drivers encounter sheep on the road, they must slow down and honk the horn as this will make the sheep run to the side of the road. If they notice that a sheep is on one side of the road and a lamb on the other side, they should expect that the sheep or the lamb will run to the other side. If a driver hits a sheep, they must call 112. Drivers can be held liable for hitting sheep.
Single-lane bridges: Single-lane bridges must be approached slowly and with caution. The general rule is that the car closer to the bridge has the right of way.
Single-lane tunnels: In single-lane tunnels, there are passing places spread throughout the tunnel. In case of oncoming traffic, the car with the passing place on their side (on the right) is obligated to pull in and let the other car pass. It is important to drive slowly and carefully in single-lane tunnels.
Blind curves and hills: Before a blind curve and when approaching hills, drivers must reduce their speed and drive carefully.
Driving in the Central Highlands
Roads in the Central Highlands are called F-roads (i. fjallvegir). F-roads are mountain and gravel roads only accessible for AWD vehicles. F-roads are difficult to drive, often have potholes and as such it takes a long time to drive them.
Before driving on F-roads, tourists must check the conditions of their rental car agreement to see whether they are allowed to drive on F-roads or not.
During winter, the Icelandic Highlands are impassable. Most of the roads open between late May and late June (depending on the weather).
Once the roads are open in summer, driving in the Highland requires experience in addition to a proper vehicle (AWD vehicle with good ground clearance).
Many roads in the Central Highlands have river crossings. If the driver does not know how to cross a river, they should turn around and don't cross the river. No insurance covers the damaged caused by river crossings.
Make sure to check out the Highland Driving information from safetravel
| | | |
| --- | --- | --- |
| Popular F-roads (road number) | Opening date earliest | Opening date latest |
| Kjölur (35) | May 24th | June 15th |
| Sprengisandur (F26) | June 20th | July 9th |
| Landmannaleið via Dómadalur (F225) | May 28th | July 14th |
| Sigalda towards Landmannalaugar (F208) | May 24th | June 20th |
| Other F-roads | see here | |
Weather and safety
Weather warnings
The weather in Iceland can change rapidly and, therefore, it is very important to check the weather forecast before and while travelling. Wind and wind gusts can be particularly dangerous. Read more about weather in Iceland here.
In case of extreme weather, the Icelandic Meteorological Office issues weather warnings according to a four-colour system (green, yellow, orange and red), with red indicating the most extreme weather.
Weather alerts are announced on vedur.is in a yellow banner and in the top right corner.
By clicking on the alert you can get more information on the weather warning, including what type of weather is expected, how long the extreme weather is supposed to last and what regions will be affected.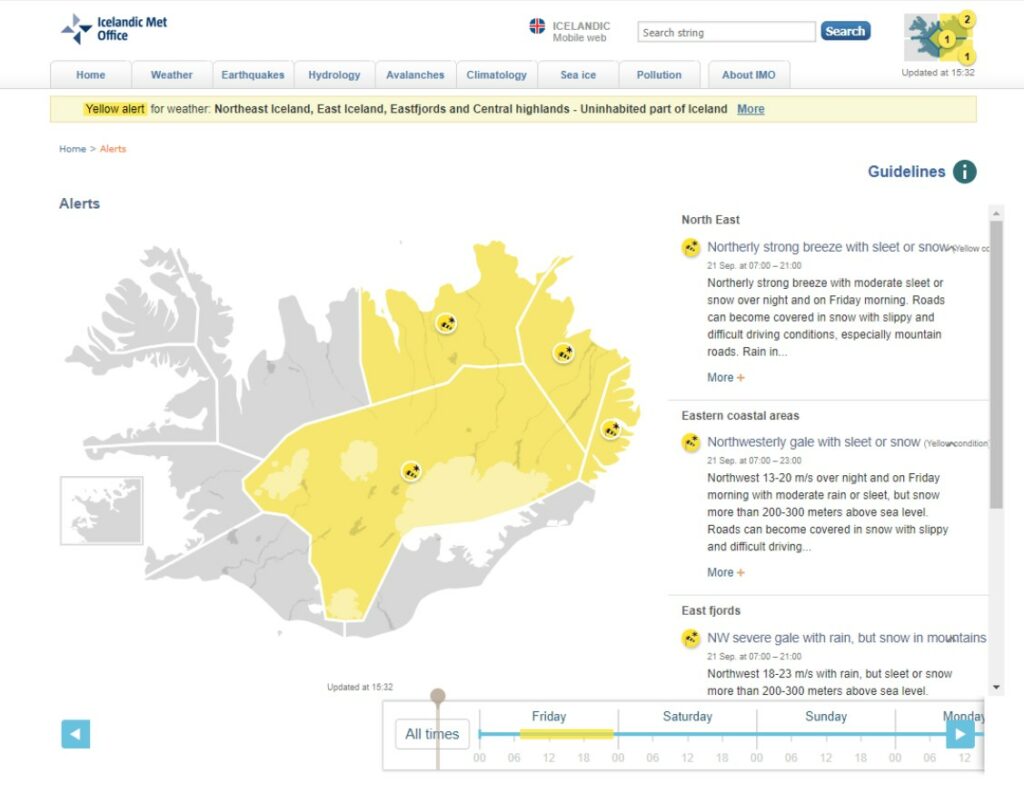 Staying warm
Regardless of the weather, it is always important to dress appropriately. Travellers must carry with them several layers of clothing and ensure that they have warm, windproof and waterproof clothing as well as sturdy shoes.
Tourists often underestimate the combined effect of wind, rain and cold temperatures. Check out the instructions for appropriate clothing on safetravel.is.
Natural disasters
There are various natural disasters (e.g. earthquakes, volcanic eruptions, avalanches) which can occur in Iceland.
Warnings for potential natural disasters will be posted in a yellow box on the front page of vedur.is as well as on safetravel.is.
When such warnings are issued, it is important to communicate them to travellers and encourage them to stay alert.
The Department of Civil Protection and Emergency Management (i. Almannavarnir) is responsible for daily administration of Civil Protection matters and informs the public of what to do in case of an emergency.
Click here to find information on how to prevent and respond to various disasters.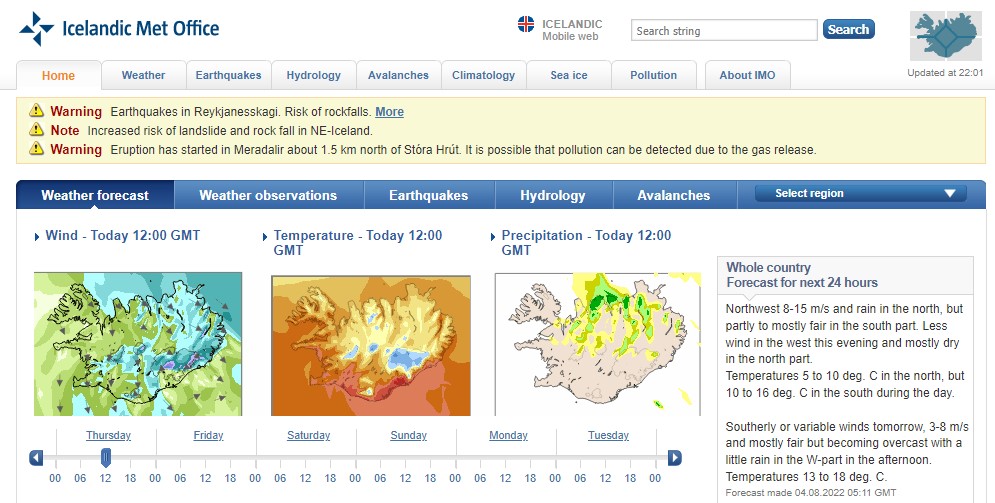 ICE-SAR
The ICE-SAR (Icelandic Association for search and rescue) consists of thousands of volunteers and specialists which help inhabitants as well as travelers in dangerous situations on land and sea. Assistance in case of an emergency is free of charge. However, if travellers disobey rules or find themselves in trouble due to negligence they might receive fines and be charged for the assistance.
Health care
Health care is available throughout the country at health care centres (i. heilsugæsla). In the afternoon, the health care centers have scheduled opening hours for same-day appointments. Click here to find information on your local health care center and its opening hours as well as emergency services.
Læknavaktin offers medical assistance via phone outside working hours on working days, during weekends and all public holidays. Phone: 1700 and 1770.
Health insurance: Iceland has a co-payment health care system, which greatly reduces the cost for health care. However, not all health care is free. When seeking health care in Iceland, citizens of EEA countries will pay the same amount as Icelandic citizens, provided they have the European Health Insurance Card (EU-card). Citizens of other countries are charged in full.
Medicine is obtained at pharmacies (i. apótek)
Click here for more information on health care in Iceland.
Other safety issues
Sneaker waves: At beaches such as Reynisfjara there are often very strong currents which can result in sneaker waves. Such waves are so powerful that they sweep one into the ocean when coming too close.
Geothermal areas: The heat at geothermal active areas is often around 100°C (212 Fahrenheit) and therefore it is important to avoid contact with the hot water and stick to assigned trails.
Slippery trails: During winter, trails are often icy, in particular near waterfalls. Therefore, it is recommended to use ice cleats or ice grips.
Travellers must follow the instructions that are given to them by warning signs and respect rails and fences because they are there for a reason.